Shaft Horsepower & Torque Monitoring
SITUATION
Gathering accurate data on shaft RPM & Torque has been problematic.
Accurate RPM & Torque readings are required in calculating horse-power and in determining system efficiencies.
The shaft sensors need to be rugged enough to work in harsh environments and continually provide data to the collection system
A local display is needed to monitor and verify readings.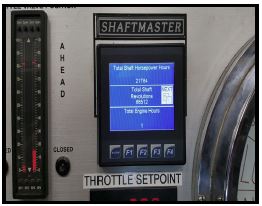 CHALLENGE— ACQUIRING THE MEASUREMENTS
The need for torque measurements has led to several methods of acquiring data from moving objects.
Two common ways to obtain torque measurements are by strain-gauging the shaft or by using in-line
torque cells. Torque sensors or transducers convert torque into an electrical signal. Both these approaches
have two technical obstacles:
Getting power to the gauges over the stationary/rotating gap
Getting the signal output.
Due to the challenging and extreme conditions of a vessel's engine room environment, the rotor/stator
systems are difficult to install, calibrate and maintain. Add to the fact their complex nature and the use of
poor and/or lack of a proper calibration procedure, output data typically is unreliable.
SOLUTION
The "ShaftMaster" Horsepower and Torque monitoring system is manufactured by Hillhouse Industrial & Marine. Two Magnetic tapes, one on each side of a line shaft bearing are epoxied in place to the shaft. Two precision mounted Sensors read the magnetic pulses on each side of the line shaft bearing. A local display is mounted in close proximity to the shaft sensors; this local display used for calibration will also display RPM, Torque, Horsepower and Engine hours. After initial calibration the system requires no maintenance calibration.
SOLUTION CONTINUED
The following data can be extracted from the "ShaftMaster" system.
Instantaneous RPM
Average RPM
Horsepower
Average Horsepower
Horsepower Hours
Torque
Kilowatt Hours
Shaft Direction
Shaft Stopped Indication
Total Revolutions Counter
Current Outputs available to interface with other devices
Digital Outputs available to interface with other devices.
Provide historic data for comparison and analysis on a monthly, daily, or even hourly basis.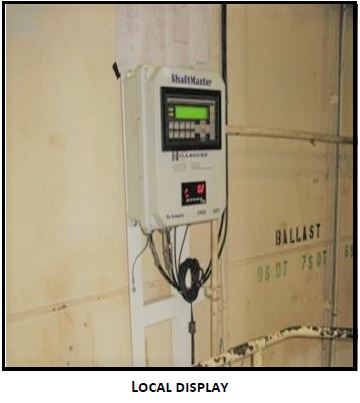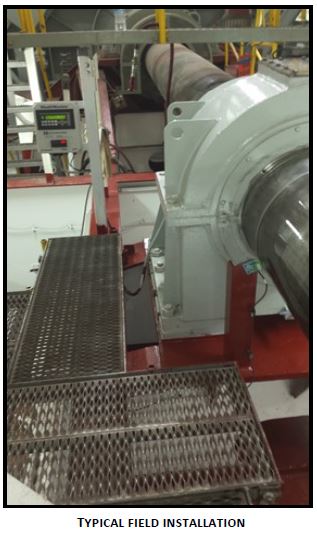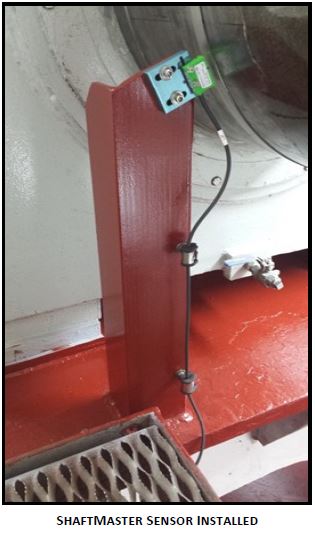 Typically mounted in the engine room control console, the user can cycle thru various screens to view shaft data.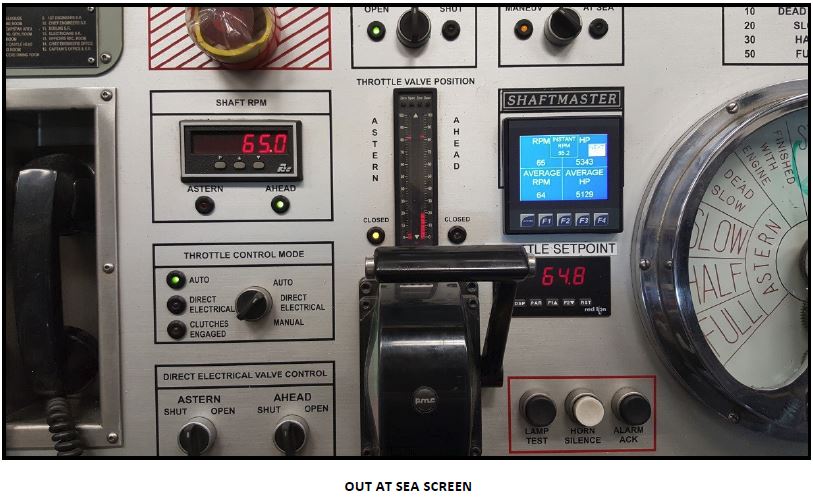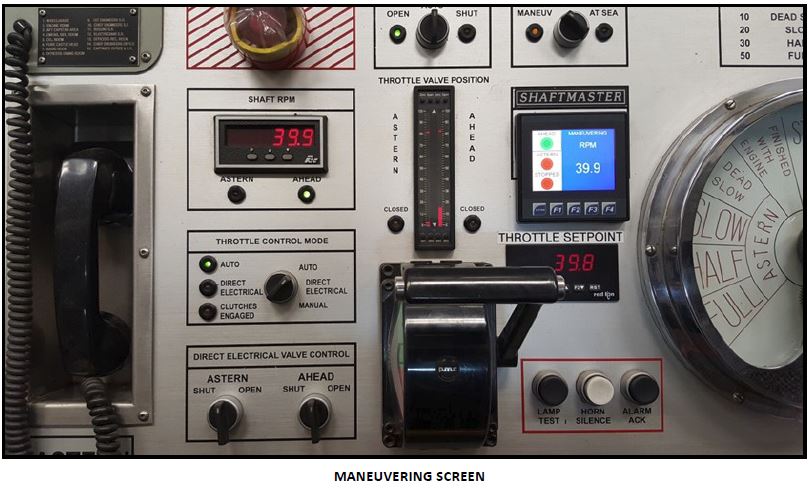 Typical Performance Periods
Estimated installation and commissioning of a single shaft system, 6 to 10 working days.
TMS has installed and proven this system on the following Vessels:
S.S. Algol – Port and Stbd. Propulsion Shafts, 60,000 Horsepower per shaft.
S.S. Capella – Port and Stbd. Propulsion Shafts, 60,000 Horsepower per shaft.
S.S. Regulus – Port and Stbd. Propulsion Shafts, 60,000 Horsepower per shaft.
U.S.N.S. Mercy – Single Propulsion Shaft.
Pacific Tracker – Single Propulsion Shaft.
Pacific Collector – Single Propulsion Shaft having C.P.P. (Controlled Pitch Propeller).